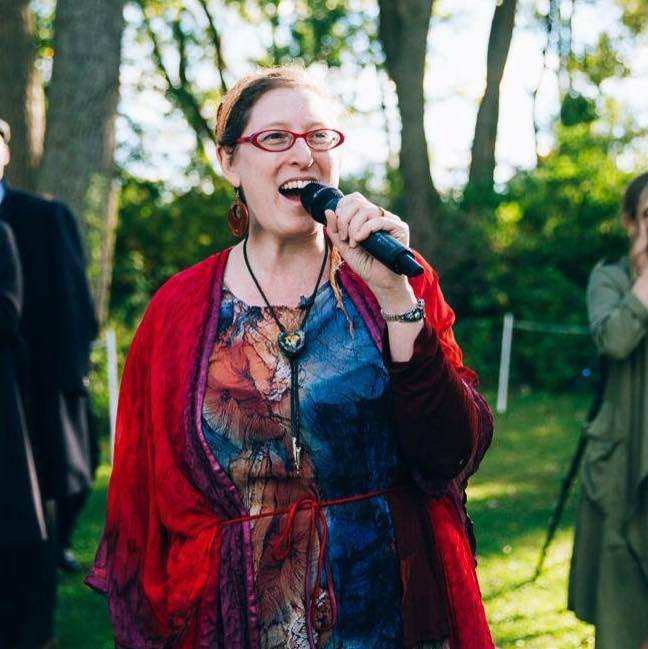 I am Annie Matan.
I am a licensed, professional Officiant with the Centre for Spiritual Living and a Kohenet Hebrew Priestess with 12 years of experience officiating spiritual weddings for interfaith, LGBTQ+, Jewish, Polyamorous, and otherwise out-of-the-box folks.
I bring my extensive database of traditional and creative liturgy, songs, writings and ritual tools to tailor your wedding to your unique relationship and personalities.

I am passionate about supporting families through the journey of preparing for marriage as well as planning a ceremony.

As a non-rabbi Jewish Spiritual Leader in the Toronto community, I can serve interfaith couples with ease and joy to have a wedding ceremony that is woven with the values of those getting married and your families.
I might be your ideal wedding officiant if:
you're getting married in Toronto.
you're looking for a Jewish officiant for your interfaith wedding who wants the partners to be fully involved and present in your co-created ceremony, without leaving any part of you behind.
you're Queer or Polyamorous and want an officiant who can relate and weave a ceremony with all the right pronouns and nuance for your unique partnership.
you want a ceremony that you and everyone you invite will recognize as uniquely you, beautiful, meaningful, relevant, and joyful.
you want a wedding ceremony that your bubbe and your partner's Atheist/Christian/Sikh/Finnish (etc.) dad will love and feel proud to be a part of.
you want an officiant who is interested in your whole selves, families, work and home lives, understanding that this journey is a holistic one.
you want an officiant who doesn't want you to settle for what you think "should" be done.
the ceremony is the most important part of your wedding day to you.